PERSPEX
Interview with Toto
by Mont
Sydney's Perspex deliver a harsh belting on their new 7". Vocalist Toto was kind enough to shine a little light into the mysterious corners of the Perspex mind.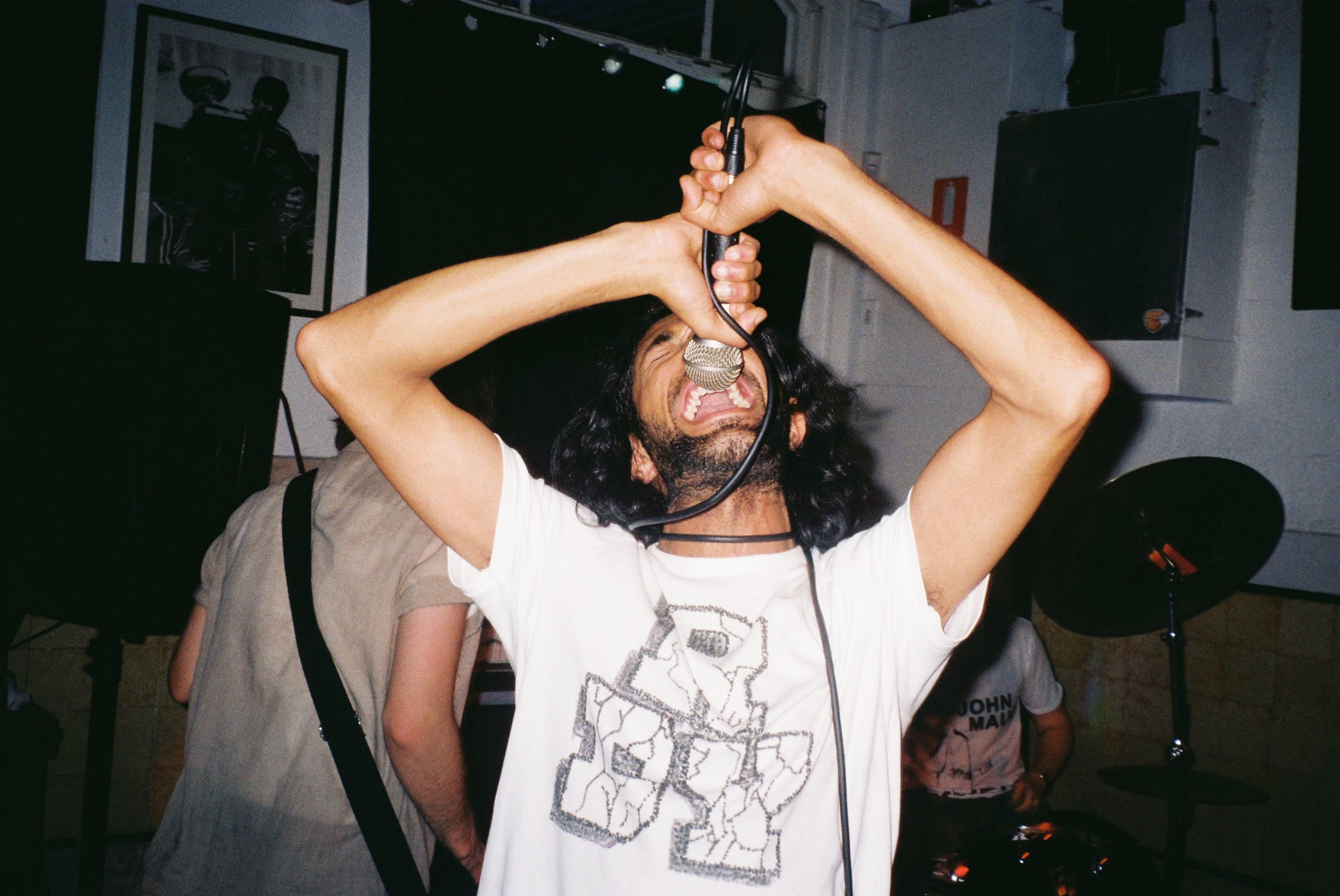 Hardcore can function as an elitist secret cult or an inclusive, welcoming community, and will alienate or radicalise people depending on their temperament. Tell us about your initiation experience into hardcore music and which of these resonated with you.
I discovered hardcore through thrash metal (the Year 10 kids from the grade above covered Master of Puppets in assembly) and struggled to find local shows that were in the vain of the hardcore that I'd listened to, read and got excited about. My initiation was through many regrettable metalcore gigs that my friends were into. So I felt a bit anachronistic and out of step. I didn't know how to dig deeper to find out where I could find local heavy sounds that weren't arranged around breakdowns to set off yet another choreographed mosh move. The scene was quite united and strong and it felt pretty stagnant much like high school cliques, but in a way it was energy well spent and cool to see people putting on all ages shows around Sydney suburbs at community centres and PCYC's about. I was especially stoked when I found local bands playing hardcore in a way that ruptured your movement and expressed a wider range of rage, frustration and emotion rather than back pats for being part of a scene. Add to that these heavy bands would also play alongside fringe electronic, punk, noise, rock n roll and glam (etc) persuasion. There is an air of unity and alienation in both experiences but I prefer it to be something that's less predictable and not seeking any towering mass appeal or marketing potential. Rapid Dye doing a mash up cover of Black Flag's "Gimme Gimme Gimme" and ABBA's "Gimmie! Gimmie! Gimmie! (A Man After Midnight)" and nailing it with conviction is case in point.



Keen to hear some background on the lyrics for 'Devil's Advocate' and your perpetual sin.
It's about drug dependency, how it prevents one from dreaming.

Do you view Perspex as contributing to a national political conversation?
Not at all, Yuli (guitars) and Chris (bass) are more politically informed than Jack (drums) and I are - who I think are maybe more informed from socio-political experiences. The efforts of resistance and revolt aren't given enough merit in this so-called nation and are suppressed harshly. We debate too much to have a singular political vision, but communally vent at how pathetic the coalition is.

What was the first song or band that Perspex agreed on when you were first getting the band together, or is the band born out of conflict and disagreement?
Dawn of Humans, Siege, The Adolescents, Nosferatu and a lot of sick Sydney cult hardcore bands, we loved several freak elements rather than having one eureka moment. Perspex tend to agree on many bands new and old, but disagree on a lot too. Chuck it all in a blender, it might just work out or fall flat on its arse.



Can you talk about a couple of your earliest memories moving around the world and offer any insight into how this effects your thinking about Gadigal land?
Last time we spoke you mentioned feeling the rife bewilderment around a tropical storm you experienced at a hospital at a very young age in Darwin. Having spent my early childhood Nairobi, Kenya I remember a flood pelting the streets and engulfing cars and humans at a waist deep level in certain parts of the city. I was a smug little fuck and didn't venture out of the house enough to be affected by it. I was in fact quite excited about it in the way young, sponge-like minds tend to do at that age. My experience in Nairobi was incredible and full of fortune and wonder, I went to many safari's which although has its fair share of adventure tourism issues beats the zoo any day of the week (watch the film Roar). The public buses which my folks and friends and I would often catch were called matatu's and they were these sick, souped up buses with multi-coloured graff that would blare out Aaliyah, Shaggy and Coolio out of these thunderous subs. I went back for a visit to the mother country, India where I was born but never lived in and saw my grandfather being cremated in an open crematory ground. There was a bone collecting Hindu ritual that takes place the following day when the corpse has been fully incinerated that I partook in. It was full on and I had no idea how to help given I didn't know how to speak Hindi very well. My parents were in too much shock to explain to my pea brain about the values and myths surrounding this Hindi ritual, of which I still have a limited understanding of. I think if I knew my grandfather more it would have affected me more severely.
My family's migration to Gadigal country is of much privilege. Being young and impressionable, I felt peer pressure to fit in with Aussie worstmen as I felt quite othered, but I definitely held my own. We lived in the bible belt also known as Pennant Hills initially and it sucked. I renounced my vegetarianism at the Planet Hollywood when I saw an Arnie Terminator wax statue out the front and went "Holy Cow gimme a fuckin beef burger". This is was not part of trying to fit in, it was the freedom of choice and sacrilege that I found to be quite intoxicating. I moved to Rydalmere, which was tough but less sheltered than the bubbled up, bloated upper middle class flex of property assets that the Hills District is. My parents still think of Australia as the lucky country and can't seem to understand the continual colonial damage it causes - especially given their experience of growing up in India and witnessing the turmoil the British crown colonists have caused on the subcontinent at large. Then again they do fuck with the BJP party (Hindu Nationalist political party that reigns supreme in India). We have argued and argued tirelessly especially after a few too many out of the box of wine but our generation gap and different upbringing naturally causes friction and conflict.
I've benefited from the grace of people here over time and have settled into a groove that I'm really appreciative for. In more recent years the key has been to surround myself with like-minded people which is pretty obvious but something that deserves mention. Despite all the internalised issues I have I'm grateful that I've been able to develop tough skin, have a bit of grit and a sense of humour in the face of worstmen.


Your record was released during the COVID live lockdown, can you talk about how this affected the band and what the plans are for the near future?
We recorded the 7" almost two years ago and didn't anticipate COVID happening, but managed to get the test pressings back early in the pandemic. NSW didn't get as affected as the other states and it was still quite tolerable to live in. Heavy music is way more exciting to me when witnessing live and when people can move around and not feel inhibited so I've personally felt a bit stifled but we're working on new tunes and are keen to at least focus on them for the time being.
We filmed a live set with the help of our mates Crizztov and Lucky at a rehearsal studio to at least coincide with the release of the 7" and our sleeve artwork was hand screen printed by our mate Jay Dorman.
Shouts out to Sexy Romance and Nopatience records for XxPuttingItOutxX.

Can you share some photos that you have taken during 20/21 Summer that sum up the tumultuous events of the last year for you?
I was quite fortunate during the lockdown so I'll upload photos of some of the highlights.


---
Listen to more Perspex here. All images from Toto.
---
MORE MONT

---